07-07-2009


Garmin heeft de 2e plaats behaald in de ploegentijdrit in de Tour de France. Heel veel tijd en moeite hebben we gestoken, net als vele andere teams trouwens, in de voorbereiding, oefening, materiaal voor deze tijdrit. We weten dat het een cruciale etappe kan zijn omdat alle tijdverschillen volledig in het algemeen klassement worden doorberekend. Op Astana kwamen we 18 seconden te kort maar op alle andere teams hebben we flink winst kunnen boeken. Onze man voor het algemeen klassement Christian Vande Velde staat op 1:16 van de leider Fabian Cancellara (Swi) van Team Saxo Bank.
| | | | |
| --- | --- | --- | --- |
| GC | Renner | | Verschil |
| 06 | Bradley Wiggins (GBr) Garmin - Slipstream | | 0:00:38 |
| 09 | David Zabriskie (USA) Garmin - Slipstream | | 0:01:06 |
| 10 | David Millar (GBr) Garmin - Slipstream | | 0:01:07 |
| 12 | Christian Vande Velde (USA) Garmin - Slipstream | | 0:01:16 |
Hoe zwaar het was? Millar zegt: "So f***d .... That was SO hard."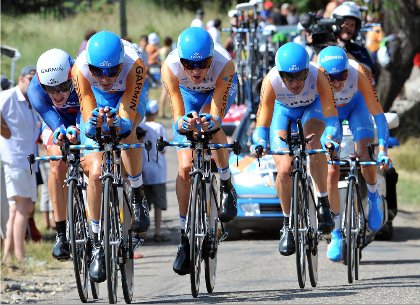 :: David Millar, Christian Vande Velde, David Zabriskie, Bradley Wiggins
:: en Ryder Hesjedal volbrengen de ploegentijdrit.
:: Foto Graham Watson - Slipstreamsports
---
Nadat we dinsdag en woensdag in de week voor de Tour de France op het parcours van de ploegentijdrit hebben getraind vindt er ook vanmorgen nog een verkenning plaats. Het grote verschil is dat het nu wel heel erg druk is met andere teams. Vanmiddag echt op volle snelheid.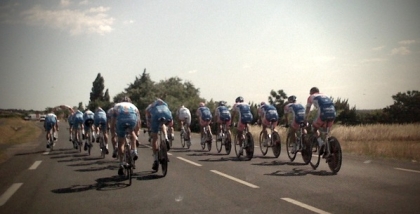 ---
Hoe ze bij Astana tegen de prestatie van de Garmin renners aankijken:
Garmin-Slipstream finished the stage in second place which is absolutely amazing. They shed four riders before the halfway point of the stage, bringing them down to five men. Since the time for the stage is taken when the fifth rider hits the finish line, they were in a very precarious situation. If they lost one more rider, they'd be forced to slow down and wait.
At first I wondered if this was a strategy they'd adopted to maximize their speed (burn through 4 support riders early and then turn on the afterburners with Dave Zabriskie, Bradley Wiggins, David Millar, Ryder Hesjedal, and Christian Vande Velde). If so, I reasoned, that was a courageous and bold move. If it worked you could win, but if you got a flat tire in the final half of the stage you'd lose a ton of time waiting for a bike switch – or worse yet, if someone crashed out you'd have to wait for a rider who you dropped several kilometers ago in order to have enough riders just to stop the clock. Then again, you have to be willing to take some risks if you're going to win at the Tour de France, and Garmin-Slipstream has always been open to trying bold tactics.
In a post-race interview, however, Vande Velde revealed that riding the second half of the event with only five riders (four really, since Ryder was doing his best but had to skip pulls just to stay with his teammates) wasn't the plan at all. Honestly, to me that makes their performance even more impressive. Faced with a very difficult situation, the remaining team members stepped up and still beat every team in the Tour de France except Astana. Considering that Garmin-Slipstream came within 18 seconds of beating Astana with four riders doing the lion's share of the work, how bad must Silence-Lotto be feeling tonight?

Label:
Profs

Permanente link naar: Ploegentijdrit Garmin Tour de France 2009
WebTrainer verzorgt persoonlijke coaching.
Neemt u een WebTrainer Coach abonnement dan krijgt u een vaste persoonlijke coach die u helpt uw sportieve ambities te realiseren.
De coach maakt een optimaal trainingsplan, binnen de tijd en mogelijkheide die u heeft. De trainingen worden samen geëvalueerd en hij motiveert om uw doel te bereiken.
Trainingsbegeleiding die alleen voor topsporters gereserveerd leek, is nu beschikbaar voor iedereen.

Zoeken in nieuwsberichten