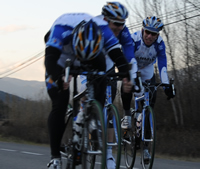 So the final preparations for the European race season are under way here in Girona, Spain. Since the Boulder training camp in mid-November, the riders have been working on coordination, muscle strength, core stability and building endurance. For the last three weeks, they've been putting in longer high intensity workouts on the road. And now, at the Girona training camp, the guy have been working together to get race read.
Tuesday the last riders came in for the start of the camp, joining the others who live in Girona. David, Bradley, Will, Ricardo, Martijn and Huub did a 3-hour morning session with short intervals. It was a recuperation day for them after a couple 4.5 to 5-hour sessions over the weekend. Hans and Kilian came in later and did an afternoon session together and Magnus arrived Wednesday evening.
Wednesday, the training with intensity started. In the morning they did a 2.5 hour session with two 20-minute efforts with their heart rates below lactate threshold. In the afternoon, we did another 2.5 hours with 3 km lead-outs and sprints between different groups of riders. The good thing is that all the riders are looking really good and were actually working hard to beat each other. The bad thing is that we are missing our natural leader David because he got a sore throat and was feeling sick.
In one of the sprints session, Bradley broke away with 800 m to go but…Martijn just closed the gap and launched his teammate for the win. You can see the results of the final sprint above. The new Dutch sprinter on the team won! Hans did it with half a bike length on Huub and Kilian.
Today, we did a 4-hour quality ride with a total of 1800 m of climbing with a lot of threshold work. Tomorrow we take it easy for a day; the guys deserve it. And Saturday we will go full speed ahead up to the new season!
(c) www.slipstreamsports.com